We are hard at work Upstairs at The Southern Cross getting the venue ready to open on 27th June.
Acts are pouring in for 'FRINGE ON THE FRINGE' coming to perform at this new and exciting space, right here in the heart of SW6 from 27th June – 27th July. We have stand-up, comedy characters, cabaret and music to delight you. Soooo watch this space for more information. Tickets will be on sale soon…….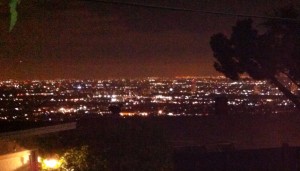 In the meantime our Sarah, Creative Producer has been spreading the word about Upstairs at The Southern Cross in Hollywood, where she has been attending the World Premiere of The Hapless Lovelife of Jesus Grey in which she played the role of Susan……. The L.A. skyline at Night is just awesome!