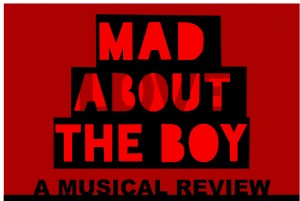 13 October, 2014
 8.00pm
The Greeks write of four different kinds of love, each with its own power and possibility – to experience a pure love like no other, all four must be present; fail one and you may be lost in the abyss.
Mad About the Boy returns after a sell out performance at The Leicester Square Theatre earlier this year.
A romantic comedy musical revue about love in its different forms. Three friends are partin ways and reminisce about their love and loss.
The cast includes:- Joshua Hayes, Jamie Lee Pike and Carley Stenson.
Music Direction by David Griffiths